PRESS RELEASE BY THE MINISTRY FOR TRANSPORT, INFRASTRUCTURE AND CAPITAL PROJECTS
First Malta Maritime Awards to be held during the Malta Maritime Summit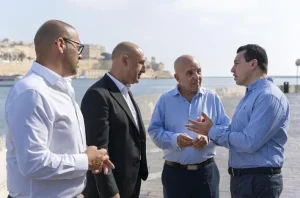 The Maritime Awards will be a good platform to recognise the hard work and dedication of those individual and companies that have contributed towards the establishment of Malta as a centre of maritime excellence.
This was stated by Minister for Transport, Infrastructure and Capital Projects Aaron Farrugia, as he announced the first-ever Malta Maritime Awards which will be held during the Malta Maritime Summit Week in October 2022.
"The maritime sector is one of the main pillars of our economy and the lifeline to the island's connectivity with the rest of the world. Over the years, a number of success stories have been announced, such as a leading jurisdiction for ship and yacht registration, a main transhipment hub in the Mediterranean, a main cruise port and leading ship repair and yachts facilities. All these success stories are a confirmation that Malta is establishing itself as a centre of maritime excellence. This was only possible thanks to the dedication and commitment of many people who work tirelessly to put Malta on the world map," Minister Farrugia said.
It was announced that the awards will be an event that celebrates the long successful history of the maritime industry, but will also act as a platform to give more motivation to the young generation to come forward and embark on a maritime career. It will also provide more visibility to what the industry represents and its importance to the Maltese economy.
The Malta Maritime Summit will be organised between 3rd and 7th of October. This week-long conference will bring together many international maritime executives and officials to discuss the challenges and opportunities facing this industry and the way forward towards a more sustainable and resilient maritime sector. In line with the government's strategy, special focus will be given to sustainability, digitalisation and added value job creation.
"Our Maltese culture has always been intrinsically linked to the sea due to our island's geography. Historically, Malta has always been a centre of maritime trade and even served as a naval base for many rulers. As the maritime sector continues to evolve, so must our country's ability to address these new challenges," said Minister Farrugia.
Also present for this launch were the Chief Executive of Transport Malta Brigadier Jeffrey Curmi, the Registrar General of Shipping and Seamen Ivan Sammut and CEO of maritime service provider GM Interational Services John Gauci Maistre.
Watch press conference on our YouTube channel here: https://youtu.be/xv4K813jmeA